I know, it's been a while, and I am a lazy, lazy blob. I've been getting back in the swing of classes only to realize that I have only two weeks left (even less as of today). Pretty soon I'll be re-packing my bags, saying goodbye to my Paris friends, and making my Facebook status
that Green Day song
.
The weather is beautiful ici a Paris, and it's getting increasingly difficult to sit still in my grammar classes. In the past couple weeks I've been scrambling to speak French with whoever I can, stuffing my face, spending frivolously, trying to see what's left to see (as if one could ever run out in Paris), and trying to figure out how the heck I'm going to pack everything. Yesterday after class, I bought a pair of overpriced but comfy sandals that BETTER last the rest of the month that I'm here. This obviously means that I don't need my socks anymore and either pack them or leave them behind. My winter stuff is already packed...once I solve these problems, all that's left is to pray that American Airlines does a better job with my luggage than Delta did.
This week and next week are crunchtime for me; review and finals through May 21st! So I have to study, or whatever. But I figured I'd put up another looong post before I neglect the blog for another couple of weeks, as well as the unposted Madrid post. (Post. What a weird word, shouldn't it be pronounced pahst? Like in pasta? But then I guess there's "most"...pardon, I don't really sleep anymore. When I get home I'm probably going to go into a coma. Or maybe start a Fight Club.)
Future posts:
-what I've missed and will miss
-what I wish I'd done, and what I recommend most
-what I think about my study abroad program
May 8th:
It's hard to believe, but finally my feet are clean after 4 hours walking the streets of Paris in flip flops. I'm just going to have to get another pair of 12 euro shoes, flats or sandals, at the tiny shoestand (I don't know what else to call it, it's not big enough to be a store) a few doors down. Today, my friend Sarah and I knocked out four places on my Paris to-do list. And since I'll have an extra week to do that once my exams are done, I guess I'm going to have to put the list on hold this week, in order to...study (shudders).
But in case you were curious, here are the places we saw today-
La Madeleine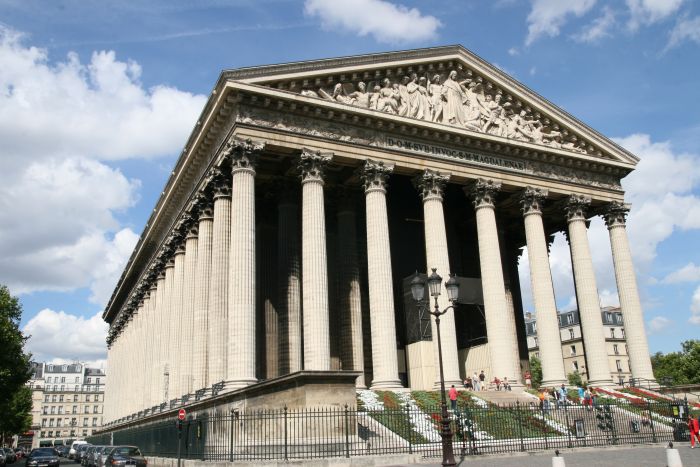 Isn't she glorious? It's a church, even though it looks more like a place where they'd hold government meetings in Athens. According to my illustrated MapEasy map, they changed their minds about La Madeleine's function 4 times before finally deciding it would be a church. Pretty beautiful inside, too, though in my opinion nothing will ever compare to Notre Dame.
Place Vendôme
It didn't quite look like this when we went- it was during the day and sunny. But it was still quite something. Sadly I do not know the history behind it, my apologies. Apparently it's a popular spot for celebrities, which isn't surprising since it's where the Paris Ritz is as well as some designer shops like Dior.
La Galerie Vivienne
An absolutely lovely hall of shops and cafes, recommended to me by my friend Joan. Since we went on a Sunday, almost all of them were closed save for one café. But it was perfect for window shopping, which was for the best...that's all we could afford, I think.
And last, but certainly not least, Le Palais Royal.
There's a lot to the Palais Royal...shops, art, gardens, this courtyard area of "modernist columns" which was designed by (looks up) Daniel Buren, restaurants...it's all very good for walking. If you watched Charade from my Paris movie list, the climactic ending scenes take place around and inside the Palais Royal. Obviously I had to go there. It's incredible, with adorable artwork and beautiful gardens. I think it's one of my favorite places I've visited. Sadly I couldn't figure out which pillars were the ones that Audrey Hepburn, Cary
Grant and Walter Mathau hid behind. I'll have to watch the movie again and go back.
I walked back to our foyer and took a route through Place de la Concorde, the Jardin du Tuileries (where I bought some Amorino...might I recommend banana, coconut and chocolate together?), past le Musée D'Orsay and le Louvre, across the Pont des Arts...
...which is my favorite bridge in Paris, a pedestrian bridge in front of l'Hotel des Monnaies...there's always a lot going on there. Also it's where Carrie and Big finally end up together in the Sex and the City series finale.
Don't let anyone tell you that Paris isn't the perfect place to fall in love, even if it's just with the city itself.
Then I walked past Ile de la Cité (where Notre Dame and the Conciergerie are) down past the St Michel fountain, La Sorbonne itself, the Pantheon and the Jardin du Luxembourg. What I'm trying to say, again, is that there's no way to walk through central Paris without passing through something famous and beautiful.
But if you'd like to hear about some lesser known places, this weekend a couple friends and I went to an American 50s' style diner, appropriately called the Happy Days Diner. My roomie Imene and her friend Aliya introduced me to this place a couple months back, and they have some amazing burgers (we ate the messy but delicious Avocado Burger) and some decent appetizers too. They did American food just as well as Americans, if not better.
As for churches, I'm lately a regularly visitor of St. Sulpice (it's in The Da Vinci Code, in case you were wondering) and its beautiful fountain. I also took a walk to visit St. Clothilde. I see its towers whenever I visit the upstairs terrace of my foyer, so I finally had to see them for myself! There's no shortage of les eglises incroyables here in Paris, and even if you are not religious, the architecture and stained glass alone are worth seeing.
On the same walk, I stopped in front of the Hotel Matignon because I read that Edith Wharton lived and wrote there for a time. Although, come to think of it, the only book of her's I've read is Ethan Frome, and I wasn't a big fan (though it may be worth reading just for the ending). And while I'm on the topic of books I don't like —and I assure you, there are not many— the only thing we read in my Literature class senior year that I disliked more than Ethan Frome was a story called The Fox, by D.H. Lawrence. In fact, ran into it here in Paris at a used book store...and I hid it. That's how much I did not enjoy that story. And D. H. Lawrence is dead, he doesn't care, he's already been successful enough anyway.
I even got to go see Le Chat Noir, which is a café/tabac (where you buy food, cigarettes, stamps, minutes for your phone, etc) near Chatelêt. The place itself isn't especially great...I got an overpriced Orangina from an impatient
Parasian
man and looked at the big plastic black cat above the sign and awning. So why did I go? Because of this:
It's a famous picture, and if you haven't somehow seen the poster in a store or somewhere else in the US (the first time I saw it was on my math teacher's classroom wall in tenth grade), let me tell you that it's EVERYWHERE in Paris, especially in the more touristy places. Shirts, bags, postcards, posters, mugs, shotglasses, music boxes, the list goes on. Apparently (meaning I read this somewhere and can't quite remember all the details) the poster is from an illiteracy epidemic in France, when all the cafés had to make illustrated advertisements of their names for those who couldn't read.
There's probably more to it than that, and it's possible I'm wrong, but it's a good story anyway.
Also make sure you visit Rue Mouffetard if you want to do some possibly inexpensive shopping or buy some fruit; it's one of my favorite streets.
It's easy to see a lot in one day while walking through Paris, and there are many places to sit, rest, and eat. It can be difficult, though, when you really want to get a good look at something. For an easy example, I wouldn't try to knock out the Louvre all in one day. My friend Kim and I did that last summer and it was so overwhelming that after 3-4 hours I could have fainted.
(Separate)
Be prepared for negativity. We were only in Madrid a short time but it was great because we got to see Guernica and many other awesome, crazy paintings and artwork at this amazing museum! Seeing Guernica alone made the trip worth it. But here's what I wrote after we arrived.
From the Spain Journal-
After an 8hour bus ride from Barcelona to Madrid, Pam and I now sit in an uncertain Madrid hostel. We took the metro here without incident, but as soon as we arrived this evening the housekeeping lady looked troubled. The guy in charge gave us a friendly Hola, look at Pam's printed reservation confirmation, and promptly disappeared. About ten minutes ago the lady said he'd be back shortly. In total he's been gone for about two minutes and maybe 9 or so pages of a Laurie R. King Sherlock Holmes paperback. I'm tempted to walk around and see what the place is like, but I'm slightly afraid of what I'll find. But it's only two nights, and then we go back to Barcelona.
Unless we get murdered, here in Madrid.
Traveler's lesson- always expect the worst, or at least the unexpected. Still, we've seen other guests, and everything we want to see is nearby. I don't know why I have a sense of foreboding, but if I die before I finish reading this book that will make my death all the more tragic. There's also the fact that I've been looking forward to going home. I'm ready to see my family again, ready to be an American again. I've had a great fill of Europe, and next I'd like to see a part of America that I've never been to.
But I can't do that if I die in Madrid, so I'm going to try and avoid that. The man is still gone. We could be out exploring the Calle de Carretas or Placa del Sol whatever they're called. I'm more comfortable with French. Pam is amazing, she's just about trilingual now.
I'm almost expecting the hostel man to come back in two hours, give us a dismal look and say, "Oh, you're still here."
Good hostels are worth a lot.
Metro tickets in Madrid are only a Euro, by the way. I'm going to try to save one for a scrapbook or something.
He's back, speaking quickly...
Oy, we're being moved. Someone made a mistake.
(later)
So here we are now in what has to be the creepiest, seediest hostel I've stayed in. The neighborhood isn't bad and the noise level isn't unreasonable, but the lights in the room don't work (except for one bedside lamp that I'm using), the drawers are lined with old newspaper, the window is literally a 15 inch square in the wall, the little TV doesn't work, and there are several towels and old soap bars that were either left behind by guests or just haven't been used in so long that they've gotten, well, moldy. This is the hostel where you expect to find something dead in your room. This is the hostel from Hostel. Funny noises, general creepiness...maybe the place is haunted. At least we have our own room. I wish I had pictures, but since I don't, here's a video of what came to mind when we were let into this place.
"We'd like a room."
"Really?"
Here's a better quality video if you're really dying to watch it. Just skip to 2:50.
"A) Credit Card, B) Cash, C) Sneak out in the middle of the night."
"We'll take C."
And here's Guernica.