Tidbit 1
:

The candy stand by the Odeon metro stop is actually pretty good. But be careful- like everything else in Paris, it's expensive!
Next, a bit on
ice cream
-
Today I walked all around Paris and ate way too much ice cream. I had, throughout the day, chocolate, coffee, mango, bubblegum, and blackberry. The only one I didn't like was the supposed blackberry, which tasted more like the cranberry sauce generally eaten at Thanksgiving dinner. It wasn't TERRIBLE...but it wasn't good, and I'm likely never going back to that particular ice cream place (I don't remember what it's called, but it says "GLUP" on the sign and it's right off of St Germain/St Michel) even though their bubblegum ice cream was good. Overpriced ice cream that doesn't even taste good is basically one of the worst, saddest things you can inflict on a person.

AVOID GLUP.
Otherwise, I feel that today was very Parisian.
This afternoon, after a brief discussion of travel over the break with some friends in my foyer, I was late meeting another friend at Centre Georges Pompidou. I walked over because it was a beautiful day; it's basically summer at the moment. No idea if it's global warming or just how it goes here, but just like Sinatra said, April in Paris is definitely something worth singing about. I wore shorts and a halter top and was still warm, and back home, it's probably snowing.
Life is good.
Don't be too angry, folks back home- I hear it's going to rain here, for the entirety of May.
Anyway, I walked to Georges Pompidou, and as I walked, I got ice cream at Amorino (SO delicious- a small cone for 3.50 and as many flavors as you want), cotton candy Hotel de Ville (I know, poor nutrition, but when will I ever again have the opportunity to walk the streets of Paris eating cotton candy?! I've already missed the opportunities to ice skate and rollerblade), and later on, an Orangina. Because it's all delicious, and I'm on vacation.
I got to Pompidou and sadly couldn't find my friend (which was my own fault. Apparently the French are always late- I wonder if they have these types of problems?). Eventually I went into the museum's bookstore, where I bought a journal.
Tidbit 2:
Pompidou has one of the best gift shops as far as cool writing/drawing supplies and posters go.
The journal I bought today has
Dali's Meditative Rose
on it.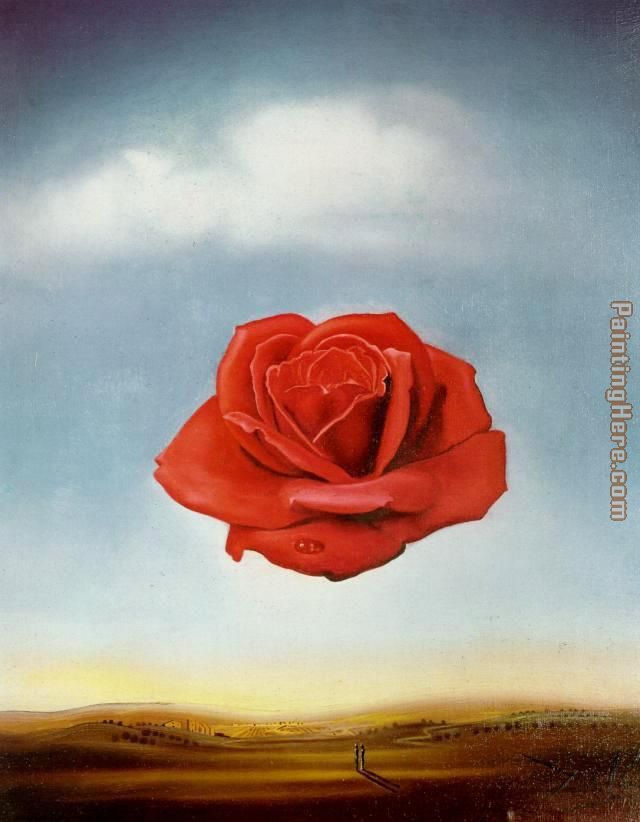 I love roses, I love meditation even though I'm not very good at it, and since visiting Madrid (the post is forthcoming) I'm finding more and more that I love Dali, even though he's a flipping weirdo. Also I love writing, in case you weren't sure.
Tidbit 4:
The big cobblestone area in front of Pompidou is also pretty cool. There are generally street performers playing instruments or putting on a show or making these enormous bubbles, and today there were vendors. Venders?
After I left the bookstore, I bought a present for someone special (an imaginationeer extraordinaire, artist in all mediums, and rescuer of guinea pigs that I'm very close to) in front of the museum, and then went off in search of tattoo parlors (just kidding, Mom- but for those interested,
there are tons of tattoo parlors around Pompidou and Chatelet)
and food. I ate and wrote at a place called Le Cyrano. And yes, I ate there because of the name. I really need to watch that movie, with Gerard Depardieu?
http://www.youtube.com/watch?v=7LBvX47XVvk
I even communicated with the waitress completely in French. I was feeling very Parisian indeed. I still make so many mistakes here that I go into absolute shock whenever I realize I understand what people are saying.
Now that I've spent some time in warm, sunny Paris, sans having to go to silly silly classes, I don't know how I'm ever going to leave. Although I can't deny that I miss my family. And driving. And most importantly, my cat!
Tidbit 9:
And I WAS missing Sex And The City and Family Guy until Anna introduced me to this website- tvdex.org. If you're abroad where Hulu doesn't work, this is the website for TV shows, man.
What I love about a walk in Paris is that it can become anything. Lunch, a visit to an old church or museum, the day you saw something amazing, the day you found or learned something you never knew existed. The day you met the love of your life! Or at least, the love of your life in the form of a pair of shoes or a trench coat. They love their trench coats here. You're also likely to find old buildings with iron rail balconies, gardens, a good market. My walk today became a pursuit of Place des Vosges.
Another great thing about France (tidbit 12):
everything is pretty packed in and there are signs everywhere for nearby landmarks— Place des Vosges is this way, Picasso museum that way—except THAT museum is closed for a while, or I'd LIVE there.
On my way to the Place, I ran into
Musee du Carnavalet
, a free historic museum that was once somebody important's house.
Free? I thought. Pourquoi pas?
It was a lot like a tiny and much less crowded Versailles. Beautiful paintings, woodwork and furniture in all the rooms. Part art gallery, part garden, part house. You see that kind of detail and extravagance, and you think, "No wonder there was a revolution."
Stupidly, I forgot the disposable cameras I bought yesterday, so I don't have pictures of the museum or Place des Vosges. But let me assure you that, like all over freakin' Paris, there are huge paintings and huge mirrors all filling up huge rooms, and outside there are lots of flowers and perfectly-trimmed hedges. Also there was a cute pillow shop nearby that I wanted to buy from, but I need to have room in my suitcase. (Bitching alert) My 3-day-late-arrived, wheel-less suitcase. Thank you Delta. Way to lose a once-loyal customer who's only going to be flying MORE in the future.
I didn't see every single room in the museum, but there were several I really liked. One had a cool painting of a girl dressed in black with a bored-looking pet Cheetah. Another room had all this iron artwork hanging on the walls and from the ceiling, with lovely stained glass windows in the background. I went to Place des Vosges soon after. It's a pretty little square park somewhere in the Marais, surrounding by old pinkish housing that I recognized immediately from a postcard. There's a fountain in each corner.
Today made me remember just why I came to Paris. I haven't traveled enough yet to say for sure, but I just can't imagine that there's another city like it. Before I came here, I asked so many people what the best things were to do in Paris. They all said, "Walk," and they were right.
I realize now that this experience will not make me fluent in French. It will not make me any more chic or any less awkward, and it won't make me a fashionista. But it will make me marvel at the world, it will make me hold my head a little higher, and it will make me say "Pardon" with a French accent every time I have to push by somebody. It will change my life, and I can't imagine not having come here.
Oh, and
Paris Tip of Today:
If you order a crepe and the crepemaker makes it incorrectly the first time around before either of you realize it (you know, he puts cheese on it instead of egg or something), you will likely get both crepes for the price of the one you wanted. It's happened to me twice. Crepemakers get distracted, apparently, and I don't always watch them closely enough.
So now that I'm done rambling about Paris, I should mention that I have one last Barcelona/Madrid post to type up (the first two are under THIS post, if you haven't checked them out yet). I just wanted to get back to Paris before I posted anything more about Spain. What I'll say now, though, it that both Barcelona Central Garden One and Sant Jordi Alberg (I think that's the spelling) Hostels are excellent, fun places to stay for the budget traveler. You will feel welcomed and you'll meet some really cool people. Also Lagan Backpackers in Belfast, Ireland is good, and I've heard from Pam that there's a place in Prague called Sir Toby's that's pretty good. I'll try and put together a list of good hostels before the blog is over.
I recently found out that I have an extra week of travel before I leave, and I've been thinking about going to Nice and then back to Barcelona. I missed a lot of Gaudi, the Picasso and Dali museums, and a zoo and aquarium. Barcelona is a really, really cool city and I'd recommend it to anybody.
Lastly, this has nothing to do with anything. I was going to post the clip of Rush Limbaugh being a radio announcer in Blue Harvest, but I couldn't find it, so here's this instead.